Job Listings
Looking for a job? Scroll down for the latest postings.
Criminal Background Check required for initial Ohio license and Ohio license restoration applications.
Employers want to post a job?
---
OAPA offers regular text ads and graphic banner ads that will be displayed on our Career Center section of the website.
Submit Your Job Posting Today!
Advertising Rates
Regular Text Ad

$50 for 1 Month
Small Graphic Ad
(225 x 200 max pixels)
$100 for 3 Months
Large Graphic Ad
(252 x 400 max pixels)
$500 for 3 months
---
All submitted job listings will be posted for the entire paid duration unless OAPA is notified by the employer that the position has been filled.
All graphics must be supplied in .JPG or .PNG format within the specified max pixel dimensions above.
---
Current Job Listings
---
MedOne Hospital Physicians

Physician Assistant

Physician Assistant for busy Hospitalist group in Columbus, Ohio. Evaluates new and existing patients by performing a history and physical, orders and interprets laboratory and diagnostic studies, prescribes pharmacologic and non-pharmacologic treatment modalities, and monitors for effectiveness of interventions for complex acute and chronically ill patients on the hospitalist service under supervision of a physician. Experience preferred but will consider new graduate.

Contact Person:Michelle Wende
Phone:614-558-3326
Email:mwende@medonehp.com
Cleveland Clinic

PA Opportunities - Multiple Specialty Areas

Cleveland Clinic is currently seeking qualified Physician Assistants for a variety of opportunities in Northeast Ohio. We are the largest employer of Physician Assistants in Ohio, and one of the largest employers in the country! We invite you to discover more about being a Physician Assistant at Cleveland Clinic, about the profession and the opportunities we have to offer.
- Cleveland Clinic is an exciting and innovative organization, serving patients from every state in the country and around the world!
- You can work in a variety of settings – at our downtown campus, at our regional hospitals or numerous family health and surgery centers.
- We offer a competitive compensation and a benefits package specially designed for Physician Assistants, including: tuition loan forgiveness for new graduates, sign-on bonuses for experienced candidates, professional reimbursements, relocation and more!
Apply today by going to http://jobs.clevelandclinic.org and Click on select "Advanced Practice" under Professional Area or type PA in the Search Jobs box.
If you don't see an opportunity you are interested in pursuing, sign-up for job alerts in the upper right hand corner.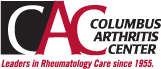 COLUMBUS ARTHRITIS CENTER

PHYSICIAN ASSISTANT

The Columbus Arthritis Center has an excellent opportunity for a licensed Physician Assistant to join our robust 9 physician rheumatology practice in Columbus, Ohio. We are looking for a Physician Assistant who has the compassion, interest, and interpersonal skills to co-manage patients with a variety of musculoskeletal disorders and connective tissue diseases. The Columbus Arthritis Center is one of the nation's largest private rheumatology specific practices. Our rheumatology practice provides quality patient care in our solo location, just minutes from downtown Columbus. We provide state-of-the art care to our patients and have created a warm and compassionate environment, as well as a large referral base. Our thriving practice has EHR, seven physician assistants, high complexity laboratory, digital x-ray and DEXA, MRI, and in-office infusion services. Our professional, supportive team and caring providers are the keys to the success of the Columbus Arthritis Center. We offer an excellent salary and benefit package, exceptional work/life balance, and the opportunity to live in one of the fastest growing major metropolitan areas in the country.
Located in the mid-west, Columbus, Ohio's capital and largest city, has notable historic neighborhoods, a thriving downtown arts and sporting district, and is home to the Ohio State Buckeyes, the Columbus Blue Jackets, the Columbus Clippers, and Columbus Crew Soccer Club. Columbus has received many honors over the past several years including American's Best Place to Raise Kids (Business Week), #1 city for sports, #1 zoo in the country, the Columbus Zoo and Aquarium (USA Tourist.com and USA Travel Guide) and Most Affordable Place to Retire (Forbes Magazine) . Learn lots more about our wonderful city at: http://columbusregion.com/Living-Here.aspx.
Please send your resume/CV to Nan Irwin, Practice Administrator - Nirwin@columbusarthritis.com
Principals only, recruiters please do not reply.
Columbus Arthritis Center is an equal opportunity employer and prohibits harassment and discrimination of any kind. This applies to all areas of employment, including recruitment, selection, hiring, training, transfer, promotion, demotion, layoff, termination, and compensation and benefits or other terms and privileges of employment.