Students
OAPA is a full time advocate and supporter of both aspiring and practicing PAs in Ohio. Students are the future of our profession, so we work hard to insure that OAPA student memberships help aspiring PAs accelerate their careers and ultimately achieve their career ambitions.
How do we support student members of the association? We host an annual student conference whose content is focused on helping students transition from their academic environment to their ultimate field of practice. We offer a mentoring program that provides one-on-one interaction with practicing PAs in a wide range of disciplines. And we even offer scholarships based on academic achievement, community involvement and leadership qualities.

The association is active in improving PA practice in Ohio through legislative advocacy, offering continuing education for PAs, providing public education on the profession and building relationships with physician organizations. All this to make sure that the PA profession in Ohio is thriving and ready for you.
OAPA values student input and to that end ou are invited to contribute to all association activities. Early involvement benefits you and OAPA.
Not an OAPA student member? Dues for 1st year students are free for one year and dues for 2nd year students are $25 for two years - your last year in school and first year in practice. Student members receive a reduced or free registration to the student conference and are eligible for a mentor and to apply for scholarships. Join OAPA Today!


Mentoring Program
OAPA will find a mentor for students and recent grads. You must be a current member of OAPA. Mentors can be assigned by region, specialty or specialty within a region.
Contact the OAPA office at oapa@ohiopa.com to be assigned a mentor.


Student Scholarships
2017 Scholarships
Applications are available for the 2017 student scholarships. Three General scholarships and one Diversity scholarship will be awarded and one Past Presidents Leadership scholarship will be awarded. You must be a member of OAPA and AAPA for a minimum of 3 months to be eligible to apply. Deadline for application is September 5, 2017.
2016 Scholarship Awards
OAPA awarded six student scholarships during the membership meeting at the 2016 Annual Conference.
There were three categories: General Scholarships, Past Presidents Leadership Scholarship and Diversity Scholarships.
The General Scholarships were selected from students who submitted applications outlining why they chose the PA profession, what their future plans are as a PA and what interests and activities they have outside the classroom.
Congratulations to the 2016 General Scholarship recipients Samar Abdul-Aziz (Tri-C/CSU), Karen Green (University of Dayton) and Mara Kohls (Kettering College).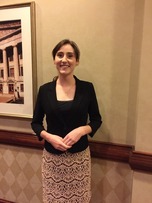 General Scholarship Recipient Karen Green.

The Past Presidents Leadership Scholarship is awarded by the OAPA Past Presidents Council. Applicants possess the characteristics of what the Council envisions in a future leader within the profession and have vision and a high degree of faith and confidence in themselves to attain these visions. They are to become the spokesperson of the profession. They are self-motivated and able to communicate to their peers their expectations.
Congratulations to the Past President Leadership Scholarship recipient Dasmyn Langston (University of Toledo).
The Diversity Scholarships are awarded by the OAPA Diversity Committee. Diversity in healthcare is becoming increasingly recognized an essential component of delivering quality, patient centered care. A personalized approach to patient care encounters can significantly improve health outcomes aided by recognizing the diverse qualities of medical providers and the individuals they care for. The Diversity Scholarships are in response to these goals.
Congratulations to the Diversity Scholarship recipients Dasmyn Langston (University of Toledo) and Jennifer Richardson (Ohio University).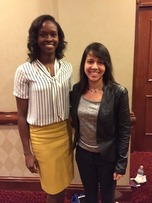 Dasmyn Langston and Jennifer Richardson.
Congratulations to the 2016 Scholarship Recipients!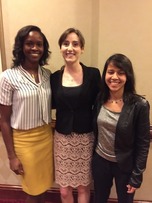 Dasmyn Langston, Karen Green and Jennifer Richardson.