Job SEEKERs
Looking for a job? Scroll down for the latest postings.
Criminal Background Check required for initial Ohio license and
Ohio license restoration applications.
---
Current Openings

---
11/17/2017
Denison Medical Group, LLC
---
11/13/2017
UC Physicians
---
11/02/2017
Geriatric Long Term Care Providers, Inc.
PHYSICIAN ASSISTANT II
TriHealth Good Samaritan Hospital in Cincinnati, Ohio
FT, shift varies (#140919)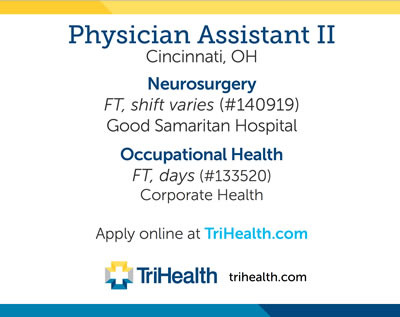 This position is a clinician with advance education and clinical practice. Under direct physician supervision, this position:
*manages patients, providing primary health care and case management, focusing on disease prevention, and the management of minor, chronic, and acute illness in collaboration with the collaborating/supervising physician
*works in close collaboration with the entire multi-disciplinary team to establish realistic goals and a thorough participant plan of care
Job Requirements
EDUCATION: Graduate of an approved technical, professional, or vocational program with a BA/BS plus 2 years post-graduate evaluation; BLS/CPR (Basic Life Support for Healthcare Providers) and ACLS; NCCPA certification with passing grade on initial NCCPA board exam, and recertification every 6 years
PHYSICIAN ASSISTANT EXPERIENCE: 3-4 years Other, PHYSICIAN ASSISTANT
SPECIALIZED KNOWLEDGE: demonstrated exceptional interpersonal relations and problem solving; strong interest in acute patient care in an inpatient setting
Apply online at TriHealth.com to job #140919.
---
MedOne Hospital Physicians

Physician Assistant

Physician Assistant for busy Hospitalist group in Columbus, Ohio. Evaluates new and existing patients by performing a history and physical, orders and interprets laboratory and diagnostic studies, prescribes pharmacologic and non-pharmacologic treatment modalities, and monitors for effectiveness of interventions for complex acute and chronically ill patients on the hospitalist service under supervision of a physician. Experience preferred but will consider new graduate.

Contact Person:Michelle Wende
Phone:614-558-3326
Email:mwende@medonehp.com
---
Avon Mediclinic

Physician Assistants

Company looking for energetic Physician Assistant in the Urgent Care / Family Practice settings. Duties will include History and Physical examination, Diagnosis and treatment plans. evaluation of laboratory and diagnostic tests and the use of EMR. This is a part time position in the Lorain County area.Salary negotiable with experience.

Contact Person: Sharon McGhee
Phone: (440) 366-0455
Fax: (440) 281-8839
Email: avonmediclinic@gmail.com